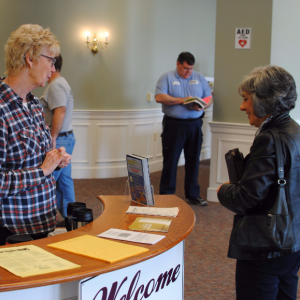 What should I wear if I visit on Sunday morning?
Whatever you feel comfortable in. Since we wear everything from jeans and flip flops to dresses or jackets and ties, you'll fit right in.
What will happen when I arrive?
A friendly person will greet you at the door. Let that person know you're new at mjmc, and you'll be directed to the welcome desk. You'll receive a small gift and help with figuring out where things are.
Do first-time guests have to do anything weird?
Nope. We won't make you stand and introduce yourself. We won't swarm you. If you want, you can write your name and contact information on the part of the program that we call the connection card. We all fill out a connection card every week so you'll blend right in.
What about my kids?
Our nursery and toddler care rooms are staffed by people committed to providing loving care for children from birth through three years throughout the morning. Two- and three-year-old children enjoy a Sunday School class designed just for them from 9:00 –10:00 a.m. and then stay on for Toddler Care while you attend the worship gathering. Children aged four years and older attend age-appropriate Christian education classes from 9:00 — 10:00 a.m. and then join the worship gathering at 10:15 a.m. On two Sundays of the month (September through May), children four years through first grade leave the adult worship gathering about 20 minutes after it begins to attend Children's Church.
What kind of music should I expect?
All kinds. Our wonderfully gifted musicians use a blend of hymns, contemporary songs, and instrumental music to lead us in praise, thanksgiving, confession, petition, and commitment.
Do I have to be a Mennonite to attend?
Definitely not. Quite a few of us come from non-Mennonite backgrounds.
What's a Mennonite?
Mennonites are Christians who value applying the teachings of Jesus in their daily lives. In most forms of worship and practice, they are similar to other Protestant Christian congregations. Although some Mennonites in Lancaster County dress differently from the general population and limit use of certain technology, you will find that the Mennonites of MJMC have no special form of dress or restrictions on use of technology. You can learn more about Mennonites here.
More questions?
Send them our way.
Every Sunday 8:30 – 9:00 a.m.
For everyone
Settle into Sunday as you sip coffee, tea, or hot chocolate in the lobby. Chat with friends, check your mail, find your way to class. Cups with lids are provided and are allowed anywhere in the building.
If you're attending for the first time, head to the welcome desk, also in the lobby, for help with finding your way around and a free gift.
Every Sunday 8:50 – around 11:30 a.m.
For infants through three-year-olds
Our nursery and toddler care rooms are staffed by loving adults and older teens throughout the morning. The room for infants and children up to two years of age opens at 8:50 a.m. to allow time for you to give instructions about your child, receive a pager in case you're needed, and get to your 9:00 a.m. class. Children may also be dropped off before the worship celebration at 10:15 a.m.
Children who are two and three years old attend an age-appropriate Sunday School class from 9:00 — 10:00 a.m. They remain in the same room to play and interact with adults and older teens during the worship gathering.
Every Sunday from 9:00 — 10:00 a.m.
For two-year-olds through adults
A God-centered life has many dimensions — more than we have time to consider during our worship gatherings. So we meet together in classes and groups that help us learn the whole God story and grow into mature Jesus-followers. Help finding specific classes is available at the Welcome Center in the lobby.
Infants and children up to age two are lovingly cared for in the church nursery during class time.

Classes for children and teens
Ages 2 and 3
Pre-k and kindergarten
Grades 1 and 2
Grades 3 and 4
Grades 5 and 6
Grades 7 and 8
Sr. high youth
Current classes for adults

Experiencing God's Dream for Your Marriage
Video teachings and various exercises to strengthen your marriage and give you helpful tools to deal with challenges most couples face. Especially helpful for couples married 10 years or less, but open to all. Share stories, encouragement, and laughter. Coordinated by Marlene and Andy Hess and Justin and Lisa Myers.
Plus these age-based classes:
20 somethings
Mostly late 20 and 30 somethings
Mostly 30s and 40s
Facing the challenges of parenting together
Mostly 40s and 50s
Mostly 50s and 60s
Bible Study Lessons
Mostly 65+
Ephesians by Keith Brooks
Builders and senior members
Bible Study Lessons
Every Sunday 10:15 – around 11:30 a.m.
For four-year-olds through adults
We gather to celebrate God and His work in our world. We gather to be challenged and inspired to live God-centered lives. We sing, share stories, pray, give tithes and offerings, and listen to God's word read and explained. (Sample a sermon here.) Then we take time to respond before being blessed and sent out to represent Jesus in our day-to-day lives.
Children's Church: For children four years through 1st grade | twice a month from September through May | children leave the sanctuary about 20 minutes into the service | age-appropriate Bible lesson and crafts, snacks, and other activities.