God blesses us to make us a blessing. So we look for ways to bless others in our local community and around the world. Where and how is God calling you to reach out?

Eastern Mennonite Missions
EMM, the mission agency of our network of congregations, provides training and support for around 150 workers in over 35 countries. If you are sensing a call to go and make disciples beyond our local area, you will find that there are many opportunities for businesspersons, children at risk workers, church developers, health professionals, teachers, and others to extend God's kingdom around the world.
Check out short- and long-term opportunities here.

Donegal Power Packs Project
This project provides weekend food and nutritional education to eligible families every week during the school year so that children return to school well fed and ready to learn on Monday mornings.
Learn more here.

FAITH Homes of Donegal
This ministry offers hope to homeless families by providing transitional housing and supportive services. Donate furniture, do minor maintenance, or serve as a mentor.
Contact FAITH Homes of Donegal through their website.

Love, INC of Lancaster County
INC stands for "In the Name of Christ." This ministry runs a clearinghouse that helps local churches work together to show God's love to the poor. A person with a need (transportation to a doctor appointment or help with grocery shopping) is matched with a Christian volunteer who can fill the need.
Contact Love, INC at 717 735-7540.

Mentor program of Donegal School District
This program welcomes any responsible adult who is willing to share 30 minutes once a week with a student to show him or her that someone cares. The school district estimates that 10-15% of their students would benefit from mentoring but only about 2% have mentors.
Contact the school district at 717 653-1447 and ask to be transferred to the director of the mentoring program.

Mount Joy Helping Services
This agency operates the Mount Joy food bank and also assists with financial help for rent, utilities, prescriptions, clothing, and lodging for needy families in Mount Joy.
Call 717 291-5462 to find out how to help.

Rainbows End Youth Services
The mission of this ministry is to extend Christ's love to Mount Joy youth and to encourage, develop, and equip them to experience Godly wholeness. Help provide after-school care, recreation, Bible study, and tutoring for children and youth in our community.
Submit a volunteer inquiry through the R.E.Y.S website.
Ready to serve?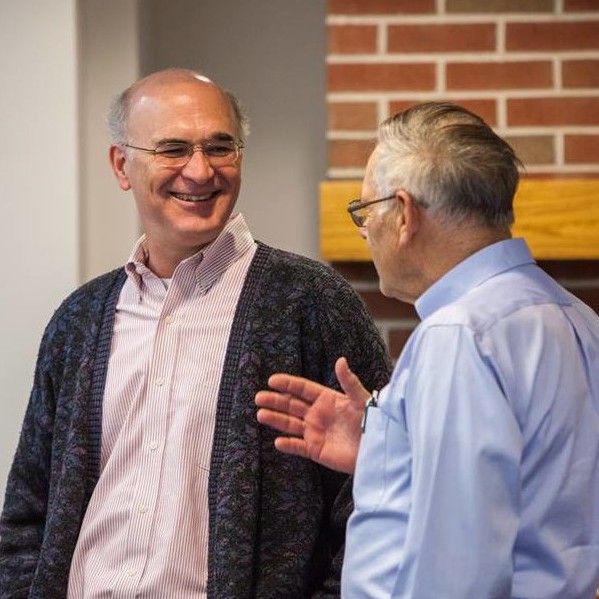 Karl Landis
Lead Pastor
Please use the contact information provided for each ministry. If you would like help in discerning where God is calling you to reach out, I would be glad to interact with you.
Contact me via email or 717 653-5660.